Camping World Truck Series
Early Bird News
06.18.2016

The 2016 season finale at Homestead, in which Justin Anderson, David Naughton and Matt Quick took one another to the very limits of their abilities in a 5 lap shootout for the crown, was one of the best finishes in EBR history. The 2016 season-ending battle at Homestead saw three drivers battling right into the final turns for a championship, with Justin Anderson holding off David Naughton by 0.276 to win his 2nd straight Xfinity Cup Championship. All Chase long this was a battle of supreme consistency versus supreme speed, and this race distilled that battle down to the very end.

It's too early to call this race the best in EBR history; More racing to come. But it deserves mention among the very best. We won't see another race this good, this intense, anytime soon.
Old news articles
Last edited by Tim Fortner on July 8th 2017, 5:36 pm; edited 4 times in total


Early Bird Racing
07.23.2016

Teddy wykle won the 3rd running of the Indy 500 at Indianapolis Motor Speedway on Saturday 23, 2016. Wykle was the surprising winner of "The Greatest Spectacle in Racing" when he stretched his fuel to the finish to pull off an upset victory. He ran out of gas after taking the checkered flag. Overall, Wykle has won three Championships within Early Bird Racing. He has won the 2014 Xfinity Cup championship, the 2014 Camping World Truck championship and now the 2016 Indy 500.
No cautions in the 75 lap Indy race allowed drivers to get into a rhythm for most of the race, but a long green-flag run to the finish set up a chaotic ending. The top driver of the afternoon - Shane Gross  ran out of fuel late while running in 1st place. That misfortune allowed Teddy wykle to lead the final 2 laps and steal the victory.
The pressure Wykle was putting on Gross from second place didn't allow the 38-year-old to save as much and ultimately was on the wrong side of the fuel game. For Gross, the result was another close-but-no-cigar type finish for the #4 Team. Shane Gross had a strong car all day, leading a race high 62 laps but had to settle for 4th-place. 
"Once again on the wrong end of a fuel mileage race," Gross said, who finished 4th at Indy."
Finishing order
1 Teddy Wykle
2 Christopher Patrick
3 David Naughton
4 Shane Gross
5 Ralph Conner Jr
6 Craig Hawkins
7 Kent Connolly
8 Mike Costa
9 Brian Rainville
10 James A Tyler
11 Tim Fortner (Out- engine problems)


Early Bird Racing
Points Battle Heating Up!
Tight Points Battle Heading to Talladega
October 16, 2016
Following  a caution free weekend at Richmond, the EBR Camping World Truck Championship Series points battle has tightened, with Teddy Wykle enjoying a comfortable lead over Shane Gross and Troy Eddy. Shane gross is 41 points behind Wykle and 42 out of the points lead. Gross has so far put together a consistent year finishing up front and staying out of trouble. Gross must stay consistent and get some wins if he expects to win the title. Troy Eddy has kept a low profile in the # 39, finding himself 3rd in the points, but a bit back from the lead struggle. To win the title, Troy Eddy must get some wins! Three points separate Shane Gross and Troy Eddy from second place.
Rounding out the top 6 for the truck series are: Matt Quick in the #89 Team Dingleberry Silverado, Tim Fortner #3 in the Team Early Bird Silverado, and Kent Connolly # 088 in the Rheem Silverado. Nine points separate these 3 drivers in the points battle. Rounding out the top 8 for the truck series are: James Tyler and Chris Patrick. James Tyler holds a 7 point lead over Chris Patrick for the 7th spot in the points battle and 18 points from 5th place. Rounding out the top 10 for the truck series are: Jason Martin and Brent Leigh. Engine problems have plagued these two drivers all season.  Chances for a series title will not happen for the #21 and #52 this year.
Dave Naughton and Matt Quick are strong at superspeedways and should do good next week at Talladega. EBR Motorsports is looking ahead with early testing at Martinsville in hopes to propel the #4 of Shane gross to a top finish at the .526 mile track. ispeed laps are up for anyone interested in early testing at Martinsville.


Early Bird Racing
Four-Time Early Bird Champion

HOMESTEAD, Fla. --  Four- time Early Bird Champion, Teddy Wykle celebrated his 2nd Camping World Truck championship In 35 career starts. He has won a record nine series races, lead the series in top-5s (31), the most top-10s (35), and had the most poles (5). Wykle won his 4th title with Early Bird Racing and continues to be the most dominant and consistent competitor in the league.
With a nearly insurmountable point lead over Shane gross, all Wykle needed to do was start the race at Homestead to secure his 2nd EBR Truck series championship. So when his engine fired and he took the track, it became official. Teddy Wykle has 91 starts, 17 victories, and 4 championships with Early Bird Racing. Wykle continues to set the standards on and off the track for all of us to follow.


Early Bird Racing
The Early Bird Xfinity season is upon us!

                                                                                                                                    Written by Terry Walters & Tim Fortner
It's that time again!  The Early Bird Xfinity season is upon us and that also means that it is time for the Early Bird Shootout on Friday, February 24th.  But don't over sleep, because kicking off the 14-week series early the next morning, Saturday, February 25th, is our Early Bird Daytona 500!  A total of 75 white-knuckle, nerve-racking laps around the 2.5 mile world famous Daytona International Speedway.  
Can the defending Daytona 500 champion, George Daly reclaim his title reign again in 2017?  Let's not forget about Matt Quick, the 2015 Daytona 500 winner.  I'm sure he is hungry for another win of this prestigious season opener.  But if neither one of these drivers can pull off another win, then who will it be? Justin Anderson has won the season championships for two consecutive seasons, 2015 and 2016.  A very strong determined driver with some serious skills, but let's not forget Teddy Wykle.  Mr. Wykle has a very impressive portfolio filled with Early Bird championships and wins throughout his racing career.  Teddy Wykle took the championship in 2014, but also backing his driving experience are his championship titles in the Camping World Truck series in 2014 and 2016 and also your defending 2016 EBR Indy 500.
So on Friday, February 24, make sure that you have your Ford Mustang, Chevy Camaro or your Toyota Camry dusted off, well-tuned and ready to go.  If you can't make this Friday night Early Bird Racing Shootout, make damn sure you are up early Saturday morning, February 25 with Folgers in your cup and ready to race in the Early Bird Daytona 500! Must be in it, to win it.
Looking at the 2017 Early Bird Xfinity series:

Preseason Top 10
1. Justin Anderson, Dingleberry Motorsports
, 
2015 and 2016 Xfinity cup champion, has already shown plenty of promise and believes he can make it three in a row. After  dominating the 2015 and 2016 Xfinity cup season and winning the 2015 Indy 500, Anderson is anxious to get the season started.
 2. David Naughton, No pants Racing, A solid Xfinity season in 2016 and a solid team. Will need to be consistent and compete for wins to stay in the title hunt. Naughton also has a strong history at Superspeedway tracks. Naughton came up short in last years championship round finishing 2nd in the 5 lap shootout at Homestead.
3 . Matthew Quick, Dingleberry Motorsports
,
 the 2015 EBR 500 champion in the Xfinity Series. Quick Will need to be consistent at short tracks to stay in the hunt. Quick has a strong history at Superspeedway tracks and expects to contend for the championship. Quick finished 3rd in last years championship race.
4 . Mike Costa, Three Wyde Racing, With three seasons under his belt, look for Costa to improve his consistency and perhaps contend for the crown. With a no show in the  truck series do to equipment failure, Costa hopes to rebound and make it to Daytona. Costa finished 4th in last years championship race. Must be in it, to win it.
5. Shane Gross, EBR Motorsports, raising concern about his sponsorship situation with the season just two weeks away. Gross in 2015 signed a deal with EBR Motorsports, Gross has been winless since. Conversations are ongoing and not sure what the future holds for Gross if he doesn't get a win this season. Gross tied 5th in points last season but failed to win any races.
6. Kent Connolly had a great season in 2016 and could easily be ranked higher on this list. while Connolly has proved to be a competitive driver in the #088 car, Will he be able to have the same success in 2017? Connolly tied for 5th over all in last years series but failed to make the final round.
7. Tim Fortner,  EBR Motorsports, had unexpected results in 2016. The driver lineup for the 2017 season at EBR Motorsports could lose sponsorship if they don't get a win in 2017. The addition of new engines and equipment will provide another resource to help the team win the Xfinity Cup championship. 
8. Teddy Wykle, No pants Racing, Right now, Wykle is the reigning league champion with 4 titles. Wykle's strength is consistency and has a strong team around him. Wykle and teammate Dave Naughton should be championship contenders. Wykle had several engine problems during the 2016 season.
9. Christopher Patrick, look for Patrick to get some wins and perhaps contend for the title. With a 9th place finish in the 2016 camping world truck series, Patrick hopes to rebound with a championship run in the Xfinity series. Patrick really hasn't shown much talent since winning the 2015 EBR road series championship. Pressure is on him to step it up!
10. Andy Moore,  Team sponsorship trouble. Moore was a no show in the truck series due to sponsorship. Moore hopes to rebound with the Xfinity series. Must be in it, to win it.
Here is a link to the schedule and rules package.......
http://www.earlybirdracing.com/t387-2017-xfinity-cup-schedule-rules-package
News story based on top 10 drivers from the 2016 season. 

If you want to be in the news, you have to be the news....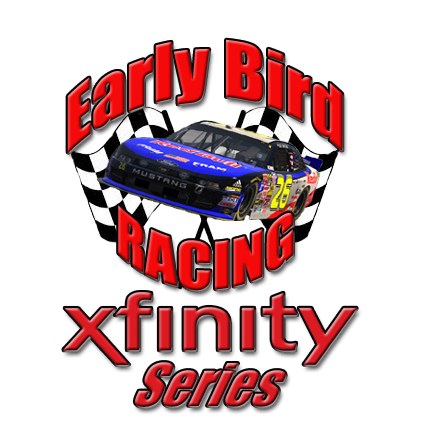 Early Bird Racing

Shane Gross won the 4th running of the Early Bird 500. It was the EBR Motorsport driver's first victory in Early Bird's premiere race of the season. Gross not only took home the trophy, but also has a ticket to the contender round of the Xfinity chase with the win. Randy Purdue finished 2nd in Saturday's 500, the best 500 result of his Xfinity Cup Series career. The 500 remains to be elusive for 4-time Early Bird league champion Teddy Wykle, who finished 3rd and 2-time Xfinity Cup Champion Justin Anderson, who finished 11th. Dave Naughton and Matt Quick finish 4th and 5th. The winner of the EBR 500 is presented with a trophy and will always be known to the league as a EBR 500 champion.This race kicks off a 14 race Xfinity cup season.
"Feels good to be back in victory lane,"Gross exclaimed."To get a win at Daytona is a big deal for Early Bird Motorsports."  


Early Bird Racing

April 15, 2017 
Following the completion of next Saturday morning's race at  Bristol, the top 10 drivers in points will compete in the Contender Round of the Chase for the EBR Xfinity Cup.
Randy Purdue, Jason Martin, and Jimmy Todd still have a shot at making the Chase. Purdue just 2 points out of 10th place, Martin 10 points out of 10th , and Jimmy Todd 14 points out of 10th.  Jimmy Todd still eligible for the win and in deal. Matt Quick and Brent Leigh still have a shot but would need a miracle. Just 30 points seperate 3rd from 13th position in the points chase.
All 10 Chase drivers will compete in the next three races that comprise the Contender Round -- Richmond, Talladega and Kansas -- after which four drivers will be eliminated.
The top 6 will then advance to the Eliminator Round -- Rockingham and Charlotte -- with two more drivers axed after Charlotte. The four remaining championship contenders then move on to the Championship Round---
After Charlotte, the points for the final four drivers will be reset. And whichever one of the four drivers in the Championship Round has the best finish in the season-finale at Homestead-Miami Speedway will be crowned the 2017 Xfinity Cup champion.


Early Bird Racing

Due to the great racing and respect displayed on track in the past year or so, Early Bird Racing has decided to suspend our penalty system even further. The P2 (6.7.1 Car Control Issues) has been suspended indefinitely. Both the P1 and P2 car control penalties have been suspended this year. All other penalties are still in effect.
http://www.earlybirdracing.com/t376-deterrece-system#1246


Early Bird Racing
Derek Branum joins EBR Motorsports
O'Fallon, IL. – EBR Motorsports is pleased to officially welcome #17 Derek Branum to the EBR Motorsports Racing Team. The Illinois native will race both the Camping World & Xfinity series along side teammates Tim Fortner, Shane Gross, Ralph Conner Jr , and James Tyler. Derek has been racing since nascar 2003, raced with different leagues, and won a few championships. Derek's  Ready to race mentality is a great fit for the championship contending EBR Motorsports Racing Team. . "It feels like a fresh start with a great team, and I'm looking forward to 2017 and beyond."- Derek Branum. 


Early Bird Racing
The 4th running of the Indy 500

The Early Bird Indy 500 is an Indy car Series event using the Dallara DW12 Indy car scheduled for Saturday July 29, 2017 at the Indianapolis Motor Speedway. The event is scheduled for 75 laps. The actual race begins at 9:05 am with practice starting at 7:30am. This is One of the most popular races within Early Bird Racing. We're counting down the final 10 days until the 4th running of the Indy 500. The winner of the 500 will be crowned the 2017 Indy 500 champion and will be forever known as an Indy 500 winner within the league.
One of the more heart-wrenching moments in EBR Indy 500 history came in 2016 with a little more than 2 laps remaining. After racing hard all day and leading 62 laps, it looked as if Gross was going to cruise to his first Indy 500 win. However, with two laps remaining, with a victory in sight, Gross started to slow."I'm out of fuel! I'm out of fuel! Shane gross is out of fuel as Teddy Wykle takes the lead with two laps to go!
General Race Options:
Car - Dallara DW12
Yellow Flags On
Single File Restarts
One fast repair
Lucky Dogs Off
Race laps 75
Fuel 60% - 100%
Dynamic Weather - iRacing default
Dynamic Track - 75%
One lap Qualifying
Practice July 25th and 28th from 6PM to 8PM
Race Day practice from 730AM to 9AM
Race 9:05AM


Early Bird Racing
---
Permissions in this forum:
You
cannot
reply to topics in this forum