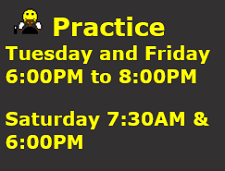 Early Bird Racing

Sim Racing League was founded in November 2013, with a mission of providing a realistic racing environment, one with emphasis on clean racing and respect. EBR is an early Saturday morning league for those of us that prefer that type of schedule. EBR runs on one sim platform - the iRacing Sim service.
During the summer and winter, Early Bird Racing will take a 2-3 month break to ensure that we do not get burned out and also allow time for our families and personal life. 
New members must be at least 18 years old to join Early Bird Racing, demonstrate mature responsible driving habits and good control of race vehicle, At least a class C license, and  good Inc per race stats. Casual racers are welcome at EBR. 
If you cannot treat fellow members with respect, this league is not for you. 

Familiarity with Rules is expected of all drivers that race with or join EBR. Look over the rules carefully, and be familiar with them before you log into the race server to race. If you have any questions about EBR, You can use the Forum, League E-mail or Teamspeak to contact the league administrator . If you wish to race with us, start by signing up at the forum/website.

Our premier series is the Early Bird Cup series with Fixed setups and a chase. The series  will  run a 14 race season starting February and lasting thru end of May. The Early Bird Truck Series starts August and last thru November. The series will run a 12-14 race season. We will run one series per year with the Cup car and Truck. The Indy 500 will be a yearly event using the Dallara IR18. (July)Practice time will be at 7:30 AM qualifying at 9:00 AM race time will be at 9:05AM every Saturday morning. Double file restarts and yellow flags will be "on". The race length will be set at approximately 35 to 150 laps. The Lucky Dog Rule will be used. Points will be tracked using the Nascar Point system and will be calculated by iRacing Points Manager danlisa. All times are EST..
General Race Options/Rules
Yellow Flags On, Double File Restarts
One fast repair
Lucky Dogs On (controlled by iRacing)
One Green /White /Checkered
Tire sets 1-4
Start/Restart on green only
Leader has Lane Choice
Two caution rule in force
Incident Limit in force
iRacing fixed set
Average Race laps 35 - 150
Average fuel 20% - 100%
Dynamic Weather 
Dynamic Track - Auto
Two provisionals allowed for the series
Code of conduct rules will be in force
Deterrence System in force (Limited)*
A drivers meeting will take place after qualifying prior to each race. 
All drivers are required to attend the Drivers Meeting. 

Pit Stop Rules
(1) If traffic is around you, announce your intention to pit.
(2) Position yourself in the right hand lane for entering & exiting the pits. 
(3) Exit the pits on the backstretch.  
(4) Drivers may not drive through more than two (2) pit boxes prior to and two (2) pit boxes after their  pit stall
https://www.earlybirdracing.com/t374-rules-and-regulations
Last edited by Tim Fortner on June 26th 2016, 12:49 pm; edited 24 times in total
---
Permissions in this forum:
You
cannot
reply to topics in this forum